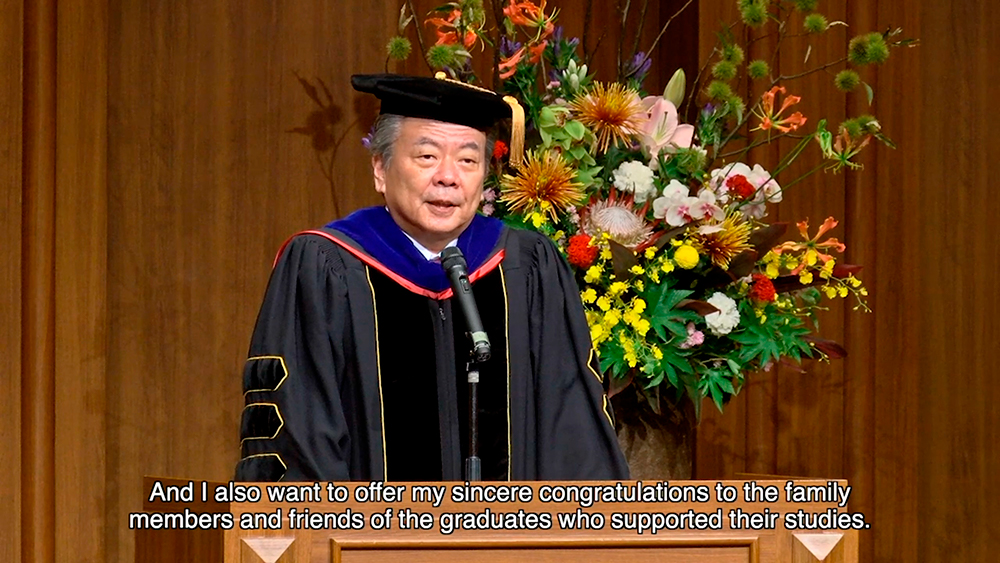 On September 14, the 2020 spring semester degree conferment and graduation ceremonies of Kyoto Computer Guraduate Institute (KCGI) and Kyoto Computer Gakuin (KCG) were held in cyberspace.The ceremony was not held in the main hall on campus to prevent the spread of the new coronavirus, and KCG Group President Wataru Hasegawa and KCGI President Toshihide Ibaraki offered their congratulations and words of encouragement to each of the participants in a video-streamed address.Even in the midst of unstable social conditions, these graduates have left the school with confidence and hope, having acquired solid IT knowledge and skills and high qualities as members of society.Congratulations to all of you!We sincerely wish you the best in your future endeavors.
This is the second degree conferral and graduation ceremony in cyberspace, following the 2019 ceremony in March.For the first time, a Zoom webinar was used, which can be distributed simultaneously to many people.The students were treated to a ceremony utilizing the latest systems and the joy of completing and graduating from a state-of-the-art IT educational institution.
In his address, President Hasegawa explained that the ceremony was held in cyberspace to prevent the spread of the new coronavirus infection, which is still continuing, and to ensure the health and safety of alumni, graduates, and related personnel.He added, "At this university, you have acquired a variety of knowledge and skills related to IT, which will become the axis of society and help people.Everything you learn will serve as a solid guide for your future as you face the hardships of your life.I hope you will take pride in your own efforts to date," he encouraged.He added, "You are also part of a human network of about 50,000 graduates and alumni, which could be called the 'KCG family.I hope that you will enrich your lives by cooperating and helping each other, valuing not only your fellow graduates and alumni but also your seniors and juniors," he said in his farewell address.
President Ibaraki said, "In the last spring semester for you, all lectures were remotely delivered via the Internet to avoid the transmission of the new coronavirus, which was a new experience.However, it is a matter of perspective.Even 10 or 20 years after graduation, if we say that we graduated in the year of the new coronavirus, I think everyone will have a fresh memory," he said, urging a positive attitude.The new coronavirus is having a major impact on all aspects of society, but what is certain is that digital and network technologies will be key to dealing with it," he noted.You have studied ICT, especially its applications, at our university.I sincerely hope that you will make use of the knowledge you have acquired, take chances and challenges, and achieve success," he encouraged.
At the ceremony, two graduating students were announced as the winners of the Grand Prize and the Prize for Excellence for their outstanding academic and research achievements.Each will receive a certificate and a commemorative gift.The "Master of Information Technology (Professional)" degree to be awarded to KCGI graduates this time, as well as diplomas and title certificates to KCG graduates, will be mailed or handed to them individually at a later date.
Eleven online rooms, each with a capacity of up to 50 participants, were set up as "celebration venues" using the online meeting tool SpatialChat.In the online room, each participant can move around the room and talk with people nearby, just as in a real space.In each room after the ceremony, participants wrote messages on online yosegaki, reminisced, and talked about their dreams after entering the workforce.The letters were converted to PDF format and sent simultaneously to all graduates and alumni with words of congratulations.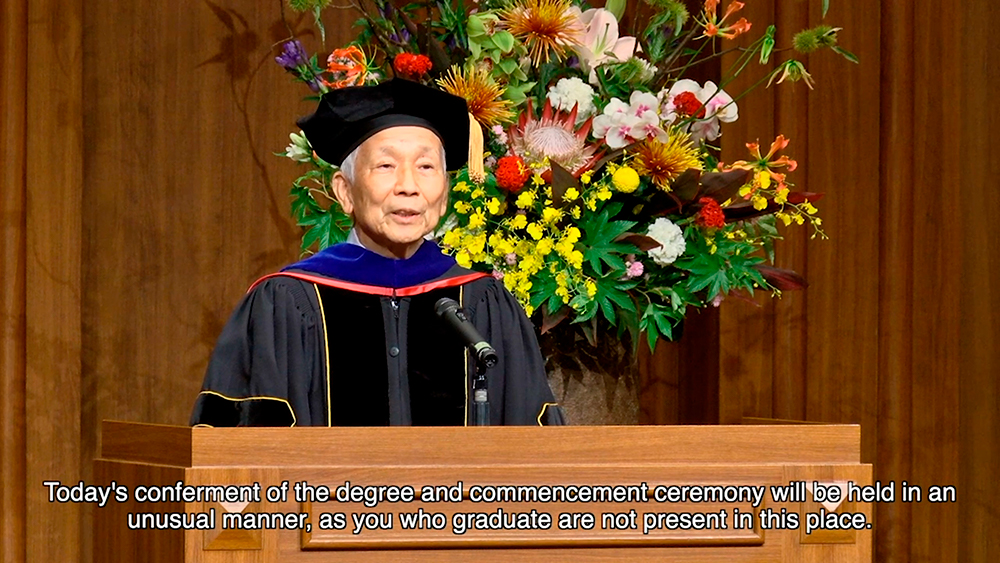 ◇ ◇ ◇
The KCG Group is relocating classes and other school operations to cyberspace as a measure against new coronavirus infection.In the spring semester of 2020, KCGI and KCG offered many courses in an e-learning format (a system that allows students to study at home via the Internet).At the same time, to ensure that there are no obstacles in taking courses or creating works, various services are available, such as the loan of laptop computers and remote access to high-spec computers on campus from outside the university.Since many classes at Kyoto College of Automotive Technology involve practical training, we have begun face-to-face classes after taking sufficient measures to prevent infection so as not to impede students' progress in acquiring skills.KCGI and KCG fall semester classes will be offered in person at the school and online at home.We ask students to apply in advance when coming to school and take thorough measures to prevent infection.
All students are urged to avoid situations where the "three densities"-close, dense, and close-combine.Information on infection prevention and consultation services in case of illness are disseminated, and if students have any concerns, they are encouraged to consult with the office of each school by e-mail or other means.For various student guidance and events, such as job placement guidance, we use both face-to-face and online services while utilizing cyberspace to maintain services for students.
With a few exceptions, administrative work on campus is also carried out in cyberspace, and faculty and staff are teleworkers in principle.These measures will be continued in the fall semester and beyond, while keeping a close eye on the infection situation and government announcements and other trends.