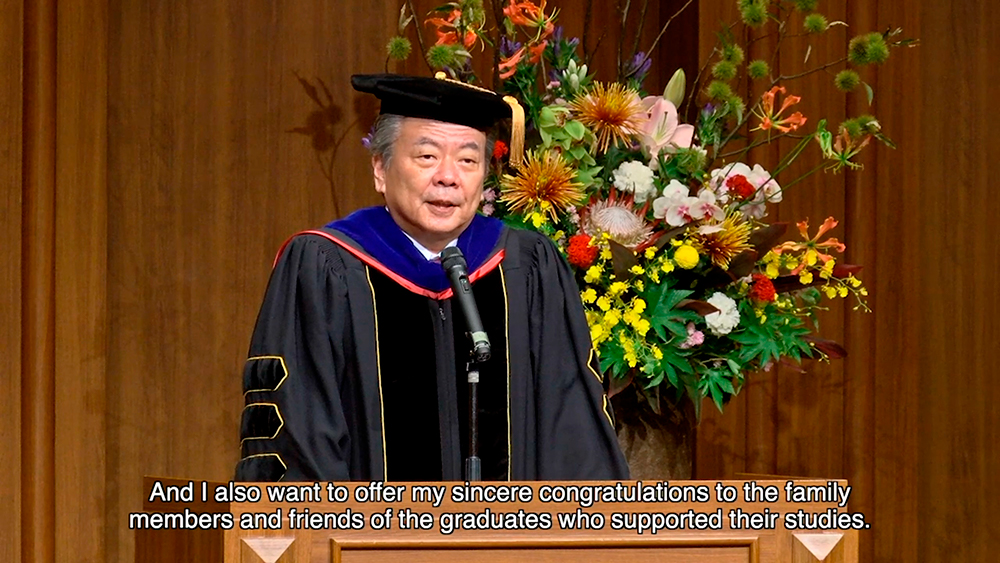 On September 14, the Spring Semester 2020 Degree Conferral and Graduation Ceremonies of The Kyoto College of Graduate Studies for Informatics (KCGI), Kyoto Computer Gakuin (KCG), and Kyoto College of Motor Vehicles (KCGM) were held in cyberspace. To prevent the spread of the new coronavirus, the ceremony was not held in the main hall on campus.
This was the second time that the degree conferral and graduation ceremonies were held in cyberspace, following the 2019 ceremony in March, and the first time that Zoom webinars were used to broadcast the ceremony to a large audience.
式辞で長谷川統括理事長は,今もなお続いている新型コロナウイルス感染症の拡大防止と,修了生・卒業生や関係者の健康・安全を考慮し,式典をサイバースペースで挙行することになったことを説明。そして「みなさんは本学において,社会の軸となり人々の助けとなるITに関連するさまざまな知識・技術を修得されました。学んだことのすべては,これからの人生において,苦難に立ち向かいながら未来を切り拓くための確かな指針になることでしょう。ご自身の今までの努力に誇りを持っていただきたいと思います」と激励しました。さらに「みなさんは,5万人ほどの卒業生・修了生による『KCGファミリー』とでもいうべき人的ネットワークの一員でもあります。卒業生・修了生同士のみならず,先輩・後輩のつながりも大切にして,協力し助け合いな
茨木学長は,「みなさんにとっての最後の春学期は, 新型コロナウイルスの感染を避けるため,すべての講義がインターネットを利用したリモートになりましたが, これは新しい体験でした。しかし,ものは考えようです。卒業後10年,20年たっても,あの新型コロナウイルスの年に卒業したと言えば,誰であっても記憶を新たにしてもらえるのではないでしょうか」と前向きに捉える姿勢を求めました。そして「新型コロナウイルスは,社会のあらゆる面に大きな影響を与えつつありますが,確実に言えることは,それに対応するには,デジタル技術およびネットワーク技術が大きなカギを握っているということです」と指摘。「みなさんは本学でICT,特にその応用について学んでこられました。培った知識を生かして, 目の前に現れたチャンスを見逃さず,積
At the ceremony, two graduates who have achieved outstanding academic and research results and have been selected for the Grand Prize and Prize for Excellence were announced, and each received a certificate of commendation and a commemorative gift. the degree of "Master of Information Technology (Professional)" to be awarded to KCGI graduates and diplomas and title certificates to be awarded to KCG and KCGM graduates will be handed over by mail or individually at a later date.
In addition, 11 online rooms were set up as "celebration rooms" for up to 50 people using SpatialChat, an online meeting tool, where participants could move around the rooms and talk with people nearby, just like in real life.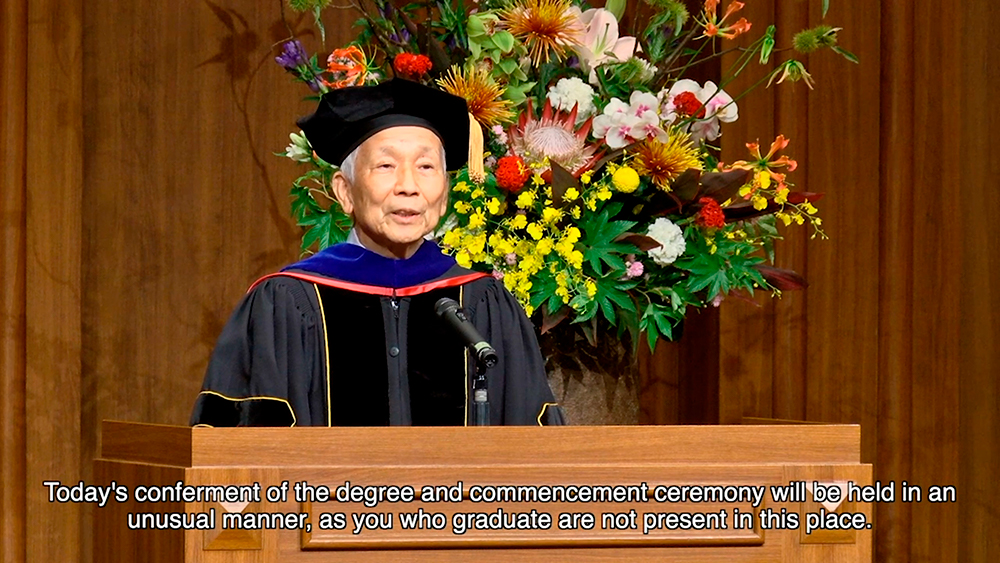 ◇ ◇ ◇ ◇
KCGグループは新型コロナウイルス感染症対策として,授業などの学校業務をサイバースペースに移転しています。2020年春学期の授業は,KCGI,KCGは多くの科目をeラーニング(インターネットにより自宅でも学習できるシステム)形式で行いました。同時に,受講や作品制作等に支障がないよう,ノートパソコンの貸し出し,学内のハイスペックパソコンの学外からのリモート利用等,さまざまなサービスを実施しています。KCGMは実習を伴う授業も多いため,学生の技術修得の進捗に支障をきたさないよう,感染予防対策を十分に講じた上で対面授業も始めています。KCGI,KCGの秋学期授業は,登校しての対面と自宅でのオンラインのどちらかを選べる方式を実施します。登校する場合は学生に事前申請してもらい,感染予防対策も徹底します。
In addition to the above, we also provide information on infection prevention and counseling services for students who feel unwell, and encourage students to contact the school office via email if they have any concerns.
With a few exceptions, administrative work on campus will be conducted in cyberspace, and faculty and staff will be teleworking in principle.