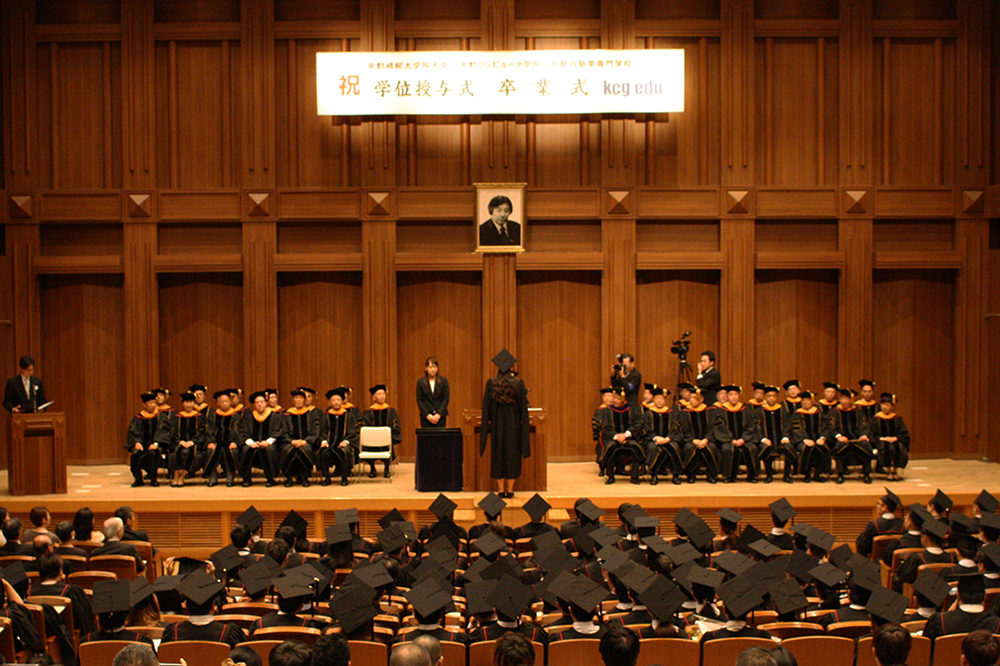 The 2019 Spring Semester Degree Conferral Ceremony and Graduation Ceremony of Kyoto College of The Kyoto College of Graduate Studies for Informatics (KCGI), Kyoto Computer Gakuin (KCG), and Kyoto College of Motor Vehicles (KCGM) were held on Friday, September 13, at KCG Kyoto Ekimae School and KCGI Kyoto Ekimae Satellite 6F Main Hall.Graduates and graduates who have acquired the latest knowledge and skills in IT and automobile maintenance, which support the foundations of modern society, have left the school with confident smiles on their faces.Congratulations to all of you!I sincerely wish you all the best in your respective fields of endeavor.
KCGI President Toshihide Ibaraki presented the "Master of Information Technology (Professional)" degree to the representative of the graduating class, while KCG Principal Yoichi Terashita and KCGM Principal Masayoshi Tezuka presented the diplomas and certificates to the representatives of KCG and KCGM graduates, respectively.Certificates and commemorative gifts were then presented to the KCGI alumni selected for the Grand Prize and Excellence Award for their outstanding academic and research achievements.
In his remarks at the ceremony, KCG Group President Wataru Hasegawa pointed out that while the Tokyo Olympics and Paralympics have been a source of much fanfare, trade friction and other problems are still piling up.In order to survive in these chaotic and uncertain times, it is important for us to acquire knowledge and skills that can support our lives at any time.The IT field continues to advance at a dizzying pace.I am confident that those of you who have studied the fundamentals at our university will be able to adapt quickly to the progress and changes of the times," he encouraged.He added, "You are part of a human network of more than 40,000 graduates and alumni that can be called the 'KCG family.I hope that you will cherish this connection, cooperate with each other, and help each other to enrich your lives," he said in his farewell address.
In his address, President Ibaraki discussed AI (Artificial Intelligence) and deep learning, explaining, "AI is the study of the world's most advanced computer technology, and it is the most important of all the technologies that are used in the world.ICT, which you will be involved in after graduation, has two aspects: one is that it can make our lives more convenient and affluent, and the other is that it can cause great harm if used incorrectly.Please be fully aware of this and use your own sound common sense to consider what you should do.I sincerely hope that you will not overlook the opportunities that are sure to arise in your activities and that you will actively take on new challenges.
Mr. Kawamura, a graduate of KCGI's Graduate School of Applied Information Technology, majoring in Web Business Technology, gave his graduation address on behalf of the graduating students and alumni.Mr. Kawamura graduated from Kyoto University's Faculty of Economics and worked at a bank before joining KCGI.Upon completion of the program, he received an award for excellence.Mr. Kawamura expressed his gratitude and said, "I received advice and assistance on various challenges that were not within the framework of the school, and I was able to achieve results that exceeded my initial goal of 'career development' at the time of my enrollment.I pledge that I will devote myself to fully demonstrating the knowledge and abilities I have acquired and cultivated in the educational and research environment of this university in my respective field, so that I can contribute to the creation of a new future.
At the end of the event, all attendees sang "Light of Fireflies" together.After the ceremony, a celebration party was held at the Rihga Royal Hotel Kyoto.