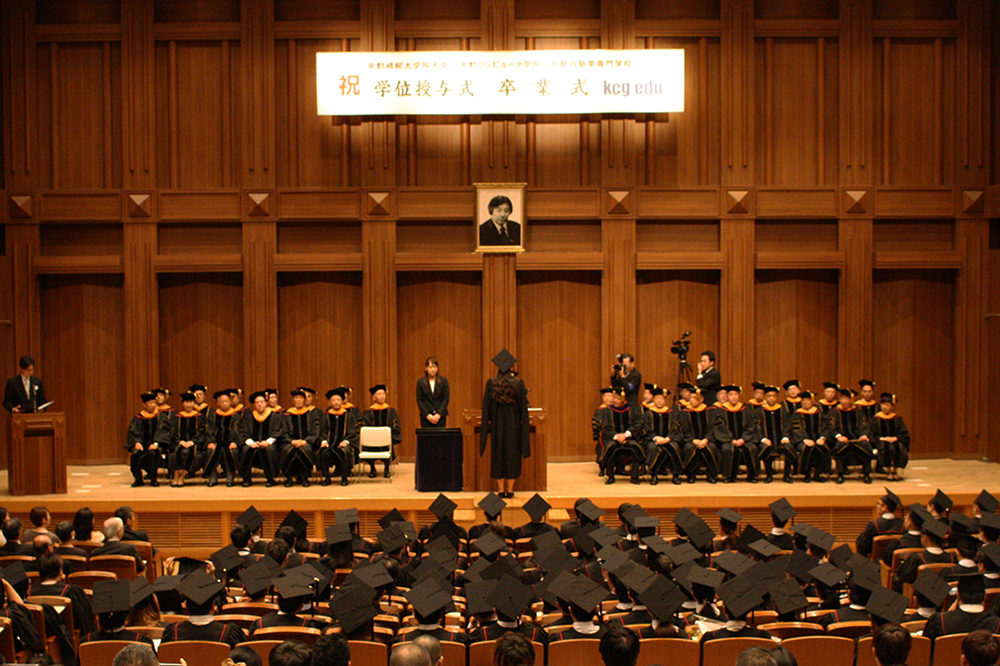 Kyoto University Graduate School of Information (KCGI), Kyoto Computer Gakuin (KCG), Kyoto Automobile College (KCGM) 2019 Spring Semester Graduation Ceremony / Graduation Ceremony September 13 (Friday), KCG Kyoto Station School / KCGI Kyoto Station Held at the 6th floor large hall of the satellite.Graduates and graduates who have acquired the latest knowledge and skills in IT and automobile maintenance that support the foundations of modern society have established their own learning buildings with confident smiles.Congratulations everyone.I sincerely wish you success on each stage.
Toshihide Ibaraki, President of KCGI, wrote the degree of "Master of Information Technology (Professional)" as the alumni representative, Yoichi Terashishita as the principal of the school in front of Kyoto Station, and KCGM as the graduate of Masayoshi Tezuka as the principal of KCGM・ The title award book was awarded.Next, a certificate of merit and a memorabilia were presented to KCGI graduates who were selected for the best award and the award for excellence in academic and research results.
At the ceremony, Mr. Wataru Hasegawa, President of the KCG Group, pointed out the current situation where problems such as trade friction pile up while talking about the Tokyo Olympics and Paralympics."What we must cherish in order to survive a chaotic and uncertain era is to acquire knowledge and skills that can firmly support our lives at any time.The IT field is making rapid progress.I believe that everyone who has learned the basics well at the University can respond to the progress and changes of the times. ""Everyone is a member of a personal network that should be called the" KCG Family "by more than 40,000 graduates and graduates.I would like to cherish this connection, cooperate and help each other to enrich your life, "he said.
In the following ceremony, President Ibaraki explained AI (artificial intelligence) and deep learning (deep learning)."The ICT that everyone will be involved with after graduation has two aspects: it can make our lives more convenient and rich, and if it is misused, it will cause serious harm.Please understand that and use your sound common sense to think about what to do.I sincerely hope that you will be actively challenged in the future without missing the opportunities that must be born one after another in your activities. "
Representing graduates and graduates, Mr. Kawamura, Department of Web Business Technology, Graduate School of Applied Information Technology, KCGI, gave his graduation remarks.Kawamura graduated from the Faculty of Economics at Kyoto University and went to KCGI after working for a bank.Upon completion, he has also won the Excellence Award.Mr. Kawamura expressed his gratitude and said, "We were able to obtain advice and assistance for various challenges that do not fit within the school framework, and achieve results that exceeded the goal of" career improvement "at the beginning of admission. It was.I will devote myself to making the best use of the knowledge and cultivated skills I have gained in the educational and research environment in each field and contributing to the creation of a new future. "
Finally, all attendees sang "Firefly Light".After the ceremony, a celebration was held at RIHGA Royal Hotel Kyoto.