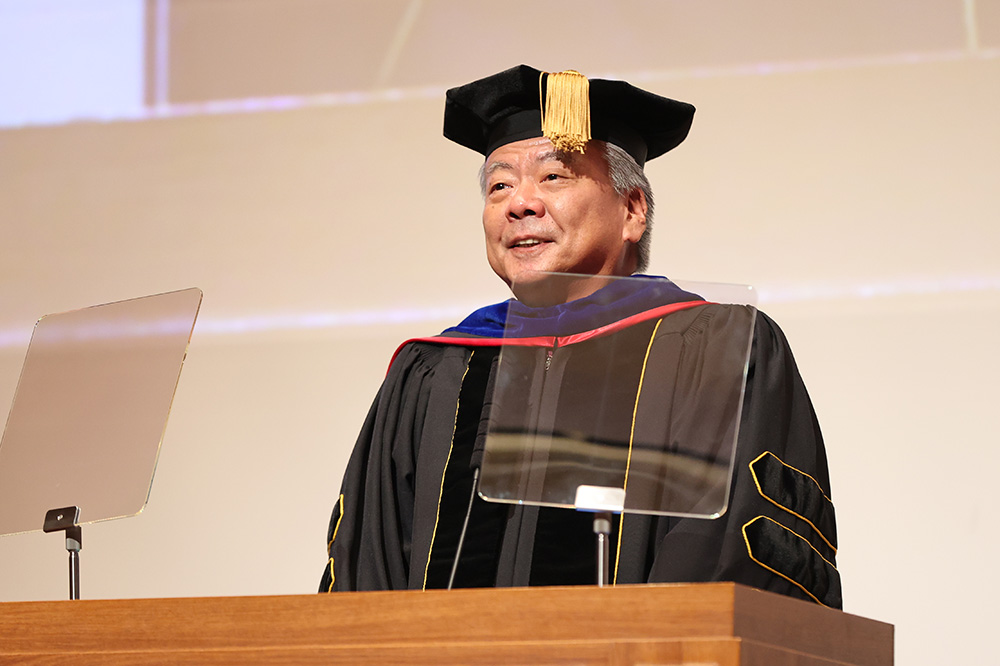 Kyoto Computer Guraduate Institute (KCGI) and Kyoto Computer Gakuin (KCG) held their spring semester 2023 degree conferment and graduation ceremonies on Friday, September 15, 2023, in a hybrid format that allowed participants to choose between face-to-face and cyberspace sessions.Wataru Hasegawa, President of KCGI/KCG/Kyoto College of Gearmanship (KCGM), and Shinji Tomita, President of KCGI, delivered the ceremonial address, offering congratulations and words of encouragement to the graduates and alumni.The young people, who have acquired solid IT knowledge and abilities and high qualities as members of society, left the school with confidence and hope in their eyes, proud of their historic alma maters, KCG, which celebrated its 60th anniversary since its founding, and KCGI, which celebrated its 20th anniversary.Congratulations to all of you!We sincerely wish you the best in your future endeavors.
Although the new coronavirus infection was moved to category 5 in May, it has not yet ended, and the degree conferment and graduation ceremonies were held in a hybrid fashion, with the health and safety of all concerned a top priority.The in-person ceremony was held in the main hall on the 6th floor of KCGI Kyoto Ekimae Satellite, KCG Kyoto Ekimae Campus, and was streamed online.
In his address, President Hasegawa said, "You have acquired a great deal of knowledge and skills related to information technology at this university.Everything we have learned and experienced will serve as a solid guide for us as we face the challenges of the future.I hope that you will continue to hone your skills and contribute to the realization of a better society," he requested.He added, "You are also a member of the KCG family, which consists of more than 50,000 graduates and alumni.Our seniors are effectively utilizing the ever-expanding KCG Group network in their business and daily lives.Regardless of how society changes in the future, we hope that you will transcend differences in nationality and culture, and value not only the horizontal ties among alumni and alumnae, but also the vertical ties between senior and junior alumni.It would be wonderful if our alma mater, KCG Group, which is aiming for its 100th anniversary, and our alumni and alumnae could work together to grow and develop together.I sincerely wish you all good health and success in your future endeavors," he said in his farewell address.
President Tomita said, "It is a fact that a new era is coming, with artificial intelligence as the core technology.You are going out into society in this era, and it is necessary for you to think for yourselves to solve various problems and cultivate the "ability to survive in the new era,"" he added.I am sure it will be very difficult for you once you enter the workforce, as you will have to learn many more things than you ever have before.We have a diverse student body with different backgrounds, and I believe that many of our students are new to the field of ICT.It must have been a great challenge to learn a new field that I had never experienced before.When you go out into the world and learn something new, you should feel confident that you have completed our university.I believe we can overcome various difficulties," he encouraged.He expressed his hope that all of you will live strongly with a challenging spirit to "pioneer a new era.
On behalf of the graduates and alumni, Mr. Gao of KCGI's Graduate School of Applied Information Technology said, "During my two years as an international student, I was able to gain new knowledge, advance my research, and learn and grow with wonderful colleagues.We have been able to learn and acquire a variety of IT knowledge and skills at the university.With the results of what we have learned at this university, we will now set out to realize our own dreams and goals.Although there are many different paths I may take, I will devote myself to fully demonstrating the knowledge I have acquired and the abilities I have cultivated at this university, which is blessed with an excellent educational and research environment, in my respective field, so that I can contribute to the creation of a new future," he said in his graduation address.
At the ceremony, a representative of KCGI graduates received a "Master of Information Technology (Professional)" degree, and a representative of KCG graduates received a diploma and title certificate.The students who have achieved outstanding academic and research results and have been selected for the Grand Prize and the Award for Excellence were also announced.They will receive a certificate and a commemorative gift.After the ceremony, diplomas and other certificates were handed to the graduating students in the main hall and to the graduates in their classrooms.Online participants will be awarded separately.In the separate rooms to which KCGI alumni had moved and in KCG classrooms, professors and faculty members in charge of the program and alumni/alumnae talked about their memories of their student life and their dreams for the future.