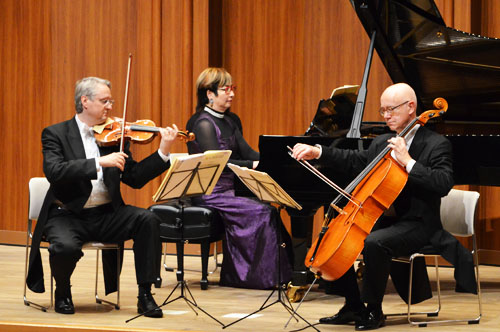 KCG Group 50th Anniversary Classic Concert "Vienna Trio" with a soft examination enveloping the hall
On December 7, the classical concert "Vienna Trio" commemorating the 50th anniversary of the KCG Group was held at the Kyoto University Graduate School of Kyoto Satellite Concert Hall.Violinist and former Vienna Philharmonic Master Daniel Goethe (professor at Nuremberg University of Music), Pianist and Viennese piano quintet Yoko Fog However, he played a piano trio and attracted many people and students who visited.
The performance was Mozart's "Piano Trio No. 6 in G major, KV.564 "and Schubert's" Piano Trio No.1 in B flat major, Op.99 ".A soft survey wrapped the hall, and applause came from the visitors, asking for an encore.
Since its founding, the KCG Group has been holding various cultural lectures, classical music concerts, traditional art appreciation events, etc., including general education subjects in the curriculum for the purpose of cultivating not only specialized skills but also students' intellect and sensitivity.These events are also appreciated by the general public.
Classical concert "Vienna Trio"
http://kcg.edu/50th/events/Classic Concert_Vienna Trio /