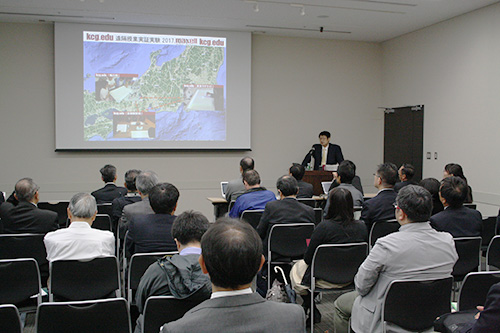 The venue of the e-Learning Award 2017 Forum announced by Koji Associate Professor Koji Emi
Associate Professor Koji Emi of Kyoto Information Graduate University (KCGI) was jointly developed by the e-Learning Award 2017 Forum, and KCGI and Kyoto Computer Gakuin (KCG) jointly developed with Maxell Corporation and the Vegetable Planet Association Announced "Desktop Projection Type Electronic Blackboard System".The desktop-projection-type electronic blackboard system is designed for e-learning that allows smooth communication through images even at remote locations by projecting images on a desk and sharing the images at multiple points via the Internet. Equipment.Since it is a desktop type, the learners can discuss each other face-to-face, and it is possible to write directly on the desk image by hand, and the image is also immediately shared with the learner at a remote location. You can continue learning.In addition to playing content such as video and text, the progress of the video on the desk is also accumulated in the cloud, so you can check the progress of the class at a later date.
In an announcement titled "Active Learning Using a Desktop Projection Type Electronic Blackboard System", Emi Associate Professor Emi introduced this system to teach craftsmanship skills such as farming that beginners cannot easily inherit. Was introduced, and an example of a demonstration experiment that acquired strawberry cultivation technology, which generally takes 15 years, was introduced in 3 years.In this forum, educators and researchers practicing e-learning gathered together to introduce abundant examples in order to actively utilize ICT, which is progressing day by day, in learning at schools and companies. A meeting to encourage lively discussions was held at the Sola City Conference Center (Chiyoda-ku, Tokyo) from October 25 to 27.
KCGI has established a new "Media Collaboration Course" in April 2017 in response to the expanding opportunities for e-learning and other ICT applications. Associate Professor Emi is a part-time lecturer at KCGI and a vegetable planet. Together with Prof. Shinzo Kobayashi of the association and the technical staff of Maxell Co., Ltd., we are researching and developing how to use the desktop projection electronic blackboard system in this course, and further application to e-learning is expected in the future. The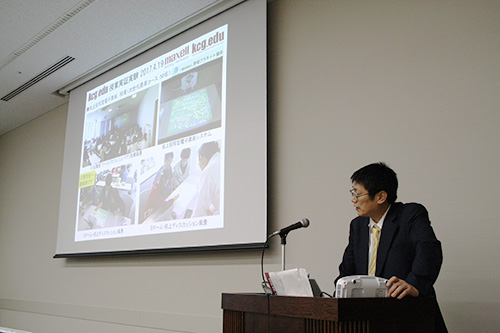 Associate Professor Emi explaining the desktop projection type electronic blackboard system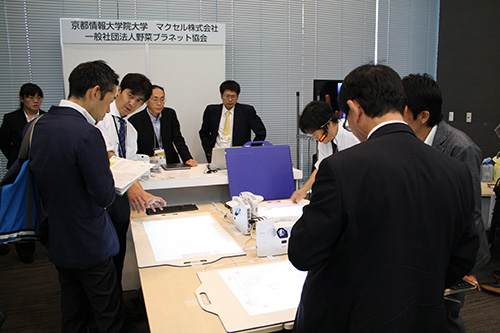 Exhibition booth visited by many visitors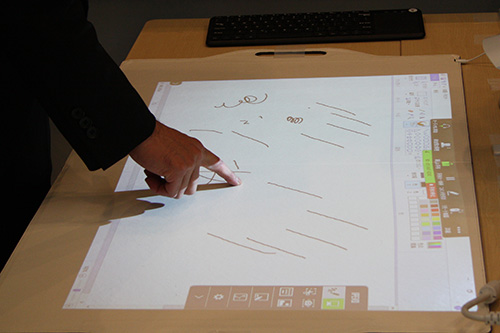 Visitors are actually writing on the projected video