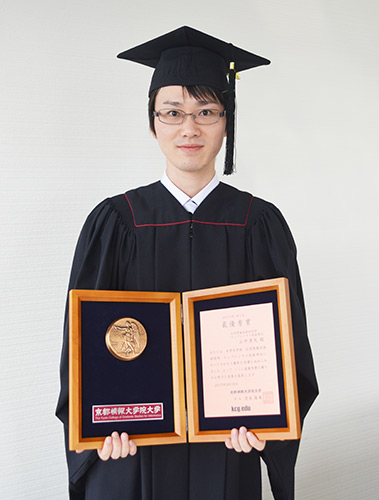 Yuya Yamanaka was named the Grand Prize winner at the KCGI degree conferral ceremony for the spring 2017 semester, Sept. 15, 2017.
Mr. Yuya Yamanaka, who was selected as the grand prize winner at the Kyoto College of Computer Science and Graduate Institute (KCGI) degree conferring ceremony (held on September 15) for the spring semester of 2017, was a working student who studied in the form of long-term corporate training at the Systems Department of Banshu Shinkin Bank (head office: Himeji City, Hyogo Prefecture).I want to live up to the company's expectations," he said, and worked hard at his studies, earning 77 credits with excellent grades, far more than the 44 credits required for completion.In addition, I presented this project at the Kansai Branch Conference of the Information Processing Society of Japan in September, and passed the HTML5 Certification Examination (Level 1), which is an advanced qualification in IT.
Selected by Banshu Shinkin Bank for its policy of training future IT professionals, Yamanaka enrolled at KCGI in October 2015.It was the first time for me to conduct long-term corporate training at Banshu Shinkin Bank, and I felt a great sense of responsibility, so I was relieved to have successfully completed the training.Before enrolling in KCGI, I was mainly engaged in system operation and management, but in the future, I would like to utilize the knowledge, skills, and experience I gained at KCGI to develop systems that will lead to improved services for our customers," he said.