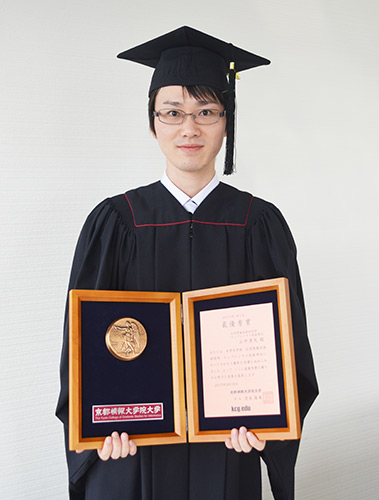 Mr. Yuya Yamanaka was selected as the highest award at the KCGI degree awarding ceremony in the spring semester of 2017 (September 15, 2017)
Yuya Yamanaka, who was selected as the highest award at the Kyoto University of Information Science (KCGI) degree award ceremony (held on September 15) in the spring semester of 2017, is in the system department of Banshu Shinkin Bank (Head Office, Himeji City, Hyogo). He was a working student who sat down and learned in the form of long-term corporate training.Encouraged the study to "rely meet company expectations" and obtained all 77 units with excellent grades, significantly exceeding the 44 units required for completion.In the course completion project, "Topic analysis of voice input chat and research on business support services" was awarded and the best project award was awarded, and this project was announced at the IPSJ Kansai Chapter branch conference in September. It won the best award without complaint, such as passing the qualified HTML5 certification exam (level 1).
Mr. Yamanaka entered KCGI in October 2015, which was selected by Banshu Shinkin Bank as a policy to train future IT professionals."The long-term corporate training at Banshu Shinkin Bank was a big responsibility in the first case, so I am relieved to have completed it safely.Prior to admission, I mainly focused on system operation and management, but in the future I would like to make use of the knowledge, technology, and experience gained at KCGI to develop systems that lead to improved service to customers. It was.