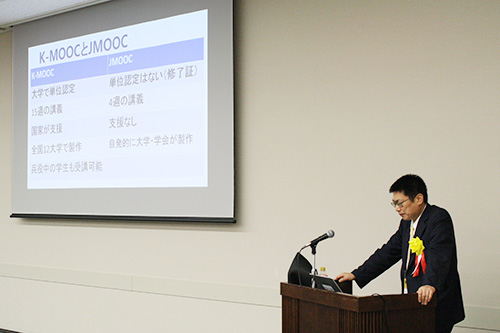 Associate Professor Keiji Emi presenting at the e-Learning Award 2018 Forum (Chiyoda-ku, Tokyo, November 14-16)
Associate Professor Koji Emi of Kyoto University of Information Studies (KCGI) and Prof. Shinzo Kobayashi of Green Color Planet CTO, a part-time lecturer at KCGI, presented their research at the e-Learning Award 2018 Forum.This forum is a nationwide event where educators and researchers practicing e-learning gather together to present examples of the application of ICT, which is evolving rapidly, to the educational business. Ochanomizu Sora City Conference Center (Tokyo) (Chiyoda-ku, Tokyo) was held from November 14th to 16th.
Prof. Emi announced the development and operation plan of K-MOOC, an online public lecture in Korea.Among them, in Korea, e-learning is prosperous because the country fully backs up education using ICT and earns credits upon completion, and a system that regularly checks and manages its quality is also working. Was introduced.In addition, an overview of e-learning education at National University of Jeju, Korea, which has an academic exchange tie-up with KCGI, was also introduced.Jeju University is the first university in Korea to start e-learning, and is an advanced school in this field, complete with a studio for teaching materials.Prof. Emi also mentioned the possibility of active mutual use of content between the two countries because of the relatively high accuracy of automatic translation between Japanese and Korean.
Prof. Kobayashi visually observed the esoteric teachings treasured in Toji, Kyoto, in a joint lecture entitled "IMS Track: New Development of Digital Badges and Credentials in Japan" sponsored by the Japan IMS Association. Announced a new teaching method inspired by the mandala that was expressed in a natural way.A mandala is an image of a shape in which eight squares surround a central square, but the subdivided learning elements are applied to each of these squares to make the whole into one module, and this "digital mandala" is further multi-layered. It is a study to develop new teaching materials by assembling them individually.Prof. Kobayashi intends to apply this new teaching material to education that can be passed down to the next generation efficiently by visualizing the skills possessed by craftsmen in various fields.Although this research has just begun, the idea of applying the wisdom of predecessors to modern learning by combining the traditions of Buddhist culture with state-of-the-art ICT has attracted the audience's attention.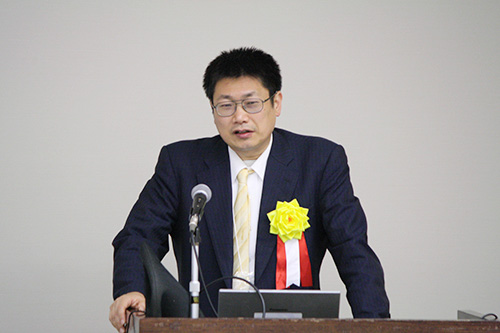 Associate Professor Emi presenting Korean e-learning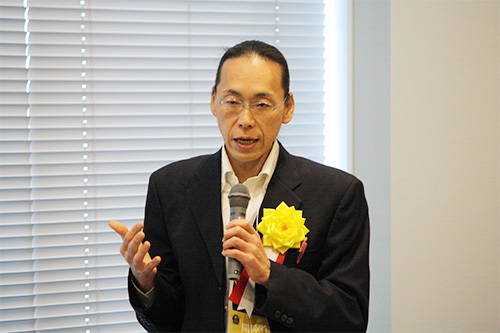 Prof. Kobayashi presenting "Digital Mandala"