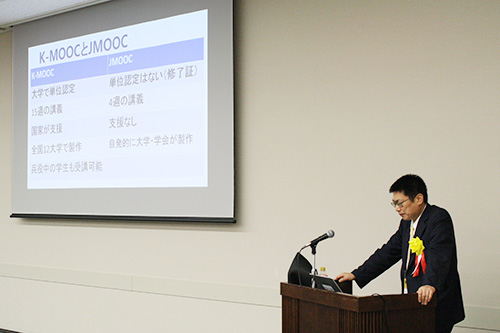 KCGI Associate Professor Keiji Emi presenting at the eLearning Awards 2018 Forum (Chiyoda-ku, Tokyo, Nov. 14-16).
Associate Professor Keiji Emi of Kyoto College of The Kyoto College of Graduate Studies for Informatics (KCGI) and Professor Shinzo Kobayashi, a part-time lecturer at KCGI and CTO of Green Collar Planet, presented their research at the e-Learning Award 2018 Forum.This forum is a nationwide event where educators and researchers practicing e-learning gather to present case studies of the application of ever-evolving ICT to educational projects, and was held at the Ochanomizu Sola City Conference Center (Chiyoda-ku, Tokyo) from November 14 to 16, 2012.
Associate Professor Emi presented the development and management plan of K-MOOC, an online public course in Korea.In Korea, the government provides full support for ICT-based education, and e-learning is popular because students can earn credits upon completion of the course.He also introduced an overview of e-learning education at Jeju National University in Korea, which has an academic exchange agreement with KCGI.Jeju National University was the first university in Korea to launch e-learning, and is a leader in this field, equipped with a studio for creating teaching materials.Associate Professor Emi also mentioned the possibility of active mutual use of content between the two countries, given the relatively high accuracy of automatic translation between Japanese and Korean.
In a joint lecture titled "IMS Track: New Developments in Digital Badge Credentialing in Japan," sponsored by the IMS Society of Japan, Dr. Kobayashi presented a new educational method inspired by mandalas, which are visual representations of esoteric Buddhist teachings and are housed at Toji Temple in Kyoto.A mandala is an iconic image with eight squares surrounding a central square, and this research aims to develop new teaching materials by applying segmented learning elements to each of these squares, making the whole into a module, and further assembling this "digital mandala" in multiple layers.Dr. Kobayashi intends to apply this new teaching material to education that visualizes the skills of craftsmen in various fields and efficiently passes them on to the next generation.Although this research is just getting started, the idea of combining the traditions of Buddhist culture with cutting-edge ICT to apply the wisdom of our ancestors to modern learning was of strong interest to the audience.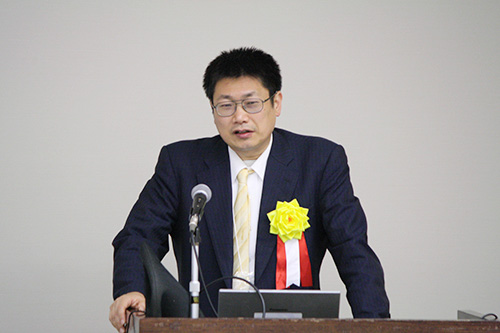 Associate Professor Emi giving a presentation on e-learning in Korea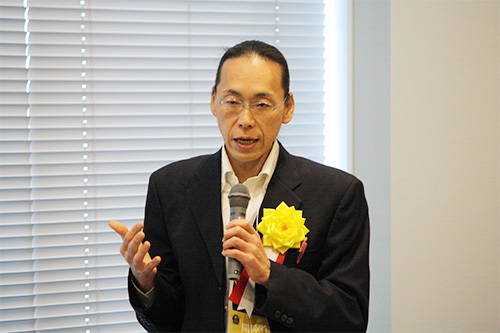 Dr. Kobayashi presenting on "Digital Mandala