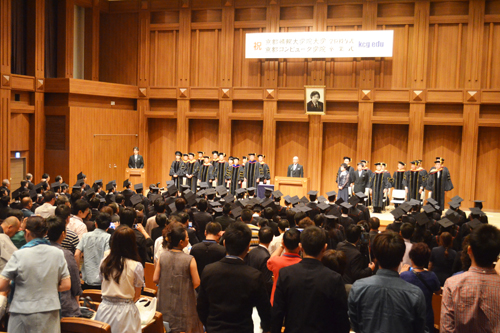 KCGI degree award ceremony and KCG graduation ceremony in the first half of 2015.The friends who completed their studies stood up to the forefront stage with many memories (September 15, 2015, Kyoto University of Information Sciences, Kyoto Ekimae Satellite Hall)
The Kyoto University of Information Science (KCGI) Degree Ceremony and Kyoto Computer Academy (KCG) Graduation Ceremony in the first half of FY2015 were held on Tuesday, September 15 at the Kyoto University of Information Science Kyoto Hall.From the alumni and graduate representatives, "I want to make a social contribution while reaffirming the role that ICT (Information and Communication Technology) should play in society and maintaining a global perspective and deep insight without being satisfied with the current situation." The companions who completed their studies continued to nest on the front stage with many memories.
Toshihide Ibaraki, President of KCGI, awarded the degree of "Master of Information Technology (Professional)" to graduates, and the principals of Shohoku / Kyoto Station in front of KCG graduates each received a diploma and a degree.After this, a certificate of merit and a memento were awarded to the graduates of KCGI who were selected for the best award and the award for excellence.
Mr. Wataru Hasegawa, President of KCG Group, said in a ceremony that the social situation awaiting graduates and graduates is very severe due to economic turmoil, conflicts around the world, territorial issues in Japan, and so on. "Analyzing and judging the situation, remembering to learn, and always walking forward will always open the way."In addition, the KCG Group's efforts include the management operation of the geographical name top-level domain ".kyoto" born in cyberspace this year, and IT utilization education for content business, marine, agriculture, tourism, etc. As a member of the largest "KCG family" in the IT industry, you will be able to develop and develop together with our university, which aims for the next 100th anniversary. "
President Ibaraki noted that ICT has made tremendous progress in science and technology while introducing "Moore's Law". "The law is said to be approaching its end, and that is when your new ideas and ideas are worthwhile. HaveI hope that we will actively challenge the possibility of being born one after another in the ICT society. "
Next, on behalf of graduates and graduates, Mr. Dan Zhao of the Department of Web Business Technology, Graduate School of Applied Information Technology, KCGI stated, I was able to live my student life.In the future, I would like to make use of the advanced specialized technology I learned at the University and work hard as a specialist in each field of ICT that progresses day by day. "Finally, all attendees sang "Firefly Light".After the ceremony, a celebration was held at the RIHGA Royal Hotel Kyoto that surrounded KCGI graduates.
Congratulations to all graduates and graduates.I sincerely wish you success in the future.