KCG Group and Degas Corporation held "CG ANI Cup 2012 Japan × EU × Taiwan Goodwill Match" and "The 24th CG Animation Contest Screening of Selected Works" (supported by Embassy of Denmark and KYOTO CMEX, cooperated by Google and Dwango) at Kyoto Computer Gakuin Kyoto Station School on Saturday, October 27.Many CG/animation fans from all over the country gathered at KCG, and more than 74,000 people from all over the world enjoyed the big event of animation.Representatives from Japan, the EU, and Taiwan competed in a friendly game to see who could produce the best CG animation work, and the EU team won.
The CG-Ani Cup is a team competition in which amateur CG animation creators from around the world bring together their 10-minute works, form teams by country, and compete for the best results.Each team consists of five pieces of work, and in the same way as in judo and kendo team competitions, the pieces are presented in order from "spearhead" to "general", with the creator adding comments.
In this "Japan × EU × Taiwan Goodwill Games", the Japanese side had won a prize in the "CG Animation Contest", and the EU and Taiwan had also won their respective contests, and were eager to put their national and regional prestige on the line and win.In addition to seven associate judges who participate via the Internet, the winner will be determined by online voting and the volume of applause at the venue.In some cases, the judges, the audience, and the Internet were divided in their evaluations of the entries, but the EU team came out on top in three of the five rounds and won the competition.
Prior to the event, "The 24th CG Animation Contest - Selected Works Screening" was held to entertain the fans by introducing 9 excellent works by Japanese animation creators, although they did not represent Japan in the Ani Cup.
The contest is Japan's most traditional competition for individually produced CG animation (personal CG animation), with more than 6,000 entries to date, and has produced many top creators who are active in Japan and overseas.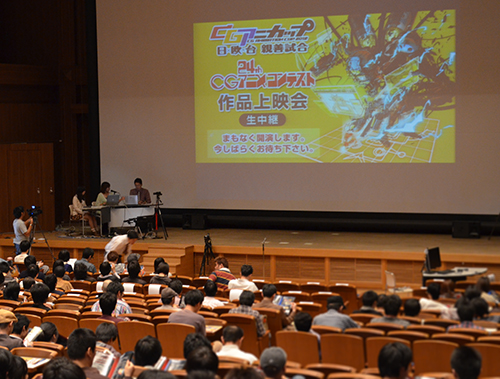 CG Anicup 2012, the 24th CG Animation Contest held at KCG 
Screening of selected works
24th CG Anime Contest & CG Anime Cup
http://www.kcg.ac.jp/event/cganime2012.html