The Kyoto College of Computer Science and Graduate Institute of Information (KCGI) students' association (representative: Mr. Yutaku) held a street fund-raising campaign near Sanjo Ohashi Bridge in Kyoto City on May 23 and 24 to help the victims of the devastating earthquake in Nepal and their recovery.On the 26th, we transferred the money to the Japanese Red Cross Society as a relief fund for the 2015 Nepal Earthquake, and we would like to report to the many people who donated their goodwill, and at the same time, we would like to express our heartfelt gratitude again.
Donations received for the activities are as follows.
[Saturday, March 23] 106,177 yen
【24th (Sun)] 103,893 yen
[Total] 210,070 yen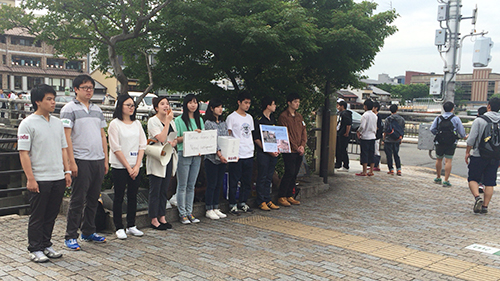 KCGI students call for donations for the Nepal earthquake in the Sanjo Ohashi neighborhood in Kyoto, Japan, May 23, 2015.