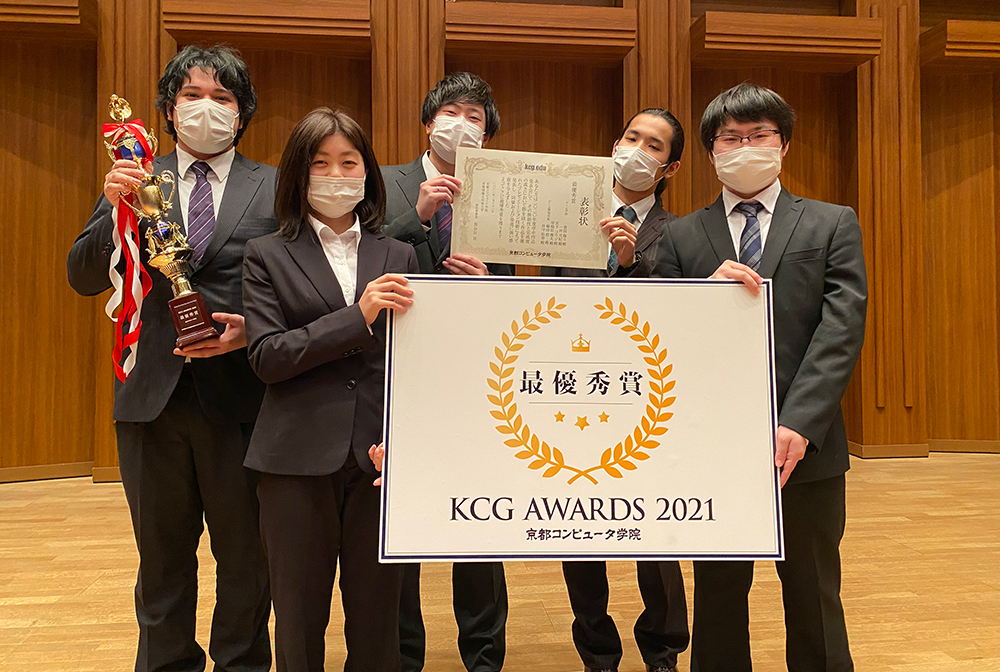 京都コンピュータ学院(KCG)の学生がプロジェクト演習などで開発,制作した作品を発表する「KCG AWARDS 2021-学生作品発表会-」が2021年2月21日(日),新型コロナウイルス感染予防の観点からオンラインによるライブ配信で開かれ,6グループ・個人がプレゼンテーション形式で成果を披露した結果,ゲーム学科の豊田さん,一井さん,早稲田さん,宮下さん,ゲーム開発学科の嶋田さん,井守さんの箱庭パズルアドベンチャーゲーム「音庭のエイン~魔法仕掛けの調律師~」が最優秀賞に選ばれました。審査はIT関連企業の関係者5名が務め,そのうち汎用ゲームサーバのクラウドサービスを開発者向けに提供するGame Server Services株式会社を設立した丹羽一智さん(代表取締役CEO)と,アマゾンウェブサービスジャパン株式会社の前田駿介さんはKCGの卒業生です
On February 4 and 5, KCG held an online "Project Exercise Presentation" in which students completed their works as a culmination of their past studies and research results and presented them in a presentation format.
The judges were Mr. Yuichiro Ozaki, General Manager of the Kyoto Branch Office of Fujitsu Limited, Mr. Yuichi Nakamura, Visiting Professor of the National Institute of Informatics and Chief Technical Officer of the Central Research Laboratory of NEC Corporation, Mr. Hitoshi Miura, General Manager of the General Research Laboratory 246 of Nihon Unisys, and Mr. Niwa and Mr. Maeda.
Mr. Niwa, one of the judges, graduated from the Game Development Course of the Department of Media and Information Studies at KCG in 2006, and joined SEGA Corporation, where he worked on game development for mobile phones and server development.
After graduating from KCG Department of Information Science in 2016, Mr. Maeda joined Yahoo Japan, where he developed security platform and internal authentication system, and is currently working at Amazon Web Services Japan, providing official training for developers.
For more details, please refer to the "KCG AWARDS 2021 - Presentation of Student Works" page.
KCG AWARDS 2021-Student Work Presentation-
https://www.kcg.ac.jp/event/awards2021.html