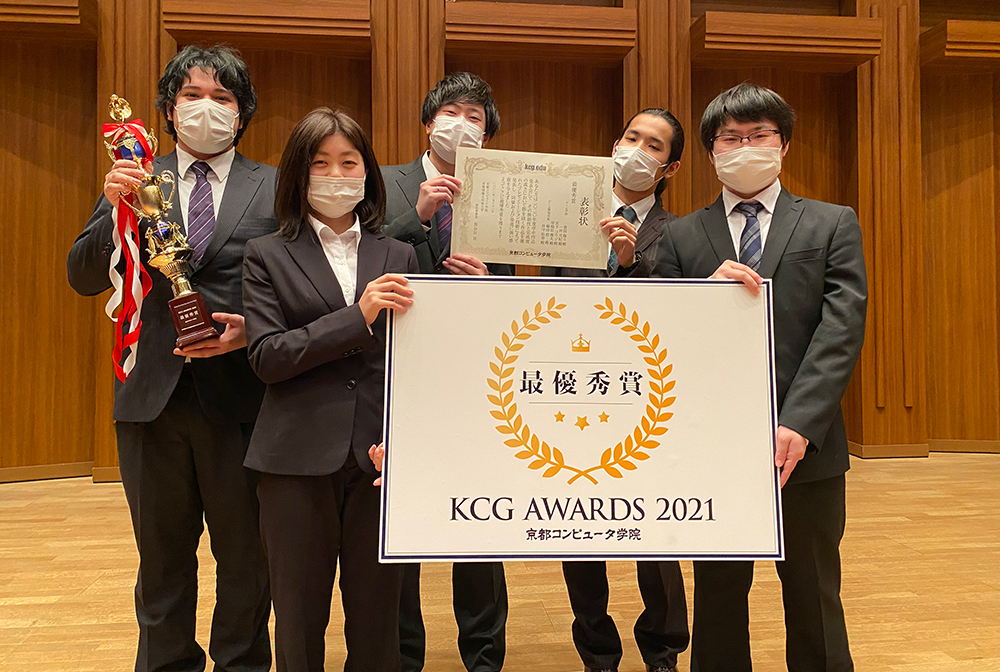 On Sunday, February 21, 2021, the "KCG AWARDS 2021 - Student Work Presentation," in which Kyoto Computer Gakuin (KCG) students presented works developed and produced in project exercises, was held via live online streaming to prevent the transmission of the new coronavirus.Among them were Kazutomo Niwa, CEO of Game Server Services K.K., which provides cloud services for general-purpose game servers to developers, and Shunsuke Maeda of Amazon Web Services Japan, a KCG alumnus.
On February 4 and 5, KCG held the "Project Seminar Presentation Meeting" online, where students completed and presented the culmination of their studies and research results, and the six works selected for the Excellence Award were presented again on this day.As a guest, students of The Kyoto College of Graduate Studies for Informatics (KCGI), one of the group schools, presented their excellent master projects.
The judges were Mr. Yuichiro Ozaki, General Manager, Kyoto Branch Office, Fujitsu Limited; Mr. Yuichi Nakamura, Visiting Professor at the National Institute of Informatics and Chief Technology Officer, Central Research Laboratory, NEC Corporation (NEC); Mr. Hitoshi Miura, General Manager, General Technology Laboratory 246, NIUISYS Corporation; Mr. Niwa and Mr. Maeda.The jury members gave detailed comments on each of the works, which was a great encouragement to the students as they continue their creative activities.
Among the judges, Mr. Niwa graduated from the Game Development Course (at that time) of KCG's Media and Information Department in 2006, and joined SEGA Corporation, where he was engaged in game development for cell phones and server development work.After that, he worked for Nintendo Co., Ltd. designing and developing OS and SDK for game consoles, and designing, developing, and operating game servers.With nearly a decade of experience in game development and large-scale game server development, he founded Game Server Services in 2016 to provide developers with cloud services for general-purpose game servers.
After graduating from KCG's Department of Information Science in 2016, Maeda joined Yahoo Japan Corporation, where he worked on the development of security platforms and internal authentication systems.Currently, he is engaged in providing official training for developers at Amazon Web Services Japan.It won the Grand Prize in the 2016 KCG AWARDS.
Detailed information is available on the "KCG AWARDS 2021 - Student Work Presentation" page.Please take a look.
KCG AWARDS 2021 - Presentation of Student Works
https://www.kcg.ac.jp/event/awards2021.html