Dr. Teiichiro Yoneda, an advisor of Kyoto Computer Gakuin and a lecturer of "special lectures" even though he was over 100 years old, passed away on June 7.It was 106 years old.We sincerely pray for the repose of the soul of the deceased and respectfully announce the following information.The funeral was conducted by relatives.
Dr. Teiichiro Yoneda has dedicated himself to education since graduating from Kyoto Imperial University.He has taught at various schools in Kyoto City, and has served as principal of Horikawa High School in Kyoto City, director of the guidance department of the Kyoto City Board of Education, and professor at Kyoto Gakuen University.In April 1987, he joined Kyoto Computer Gakuin and served as the principal of Rakuhoku School and Kyoto Ekimae School.He was appointed as an advisor and gave "special lectures" every year during the three major festivals in Kyoto, Aoi Matsuri, Gion Matsuri, and Jidai Matsuri, and his calm and easy-to-understand explanations were very popular among students.
In 2001, I started writing an article titled "Flora of Ancient Capital" for "Accume", which is published once a year by Kyoto Computer Gakuin for alumni (graduates), students, and related people.The series was one of the most popular in Accume, with contributions in every issue, tracing the history of the school and its surroundings.
Dr. Yoneda put down his pen at the end of the 2009 edition of Acme No. 18 because he had "completed a round of florid tours around the school building.By then, he had written and published a total of nine articles.In celebration of Dr. Yoneda's 100th birthday, we published a volume of "Shoyo, Shoyo in the Ancient Capital".The book is still used as a textbook for students.On December 11, 2009, when he turned 100 years old, a "celebration party" was held at KCG Kyoto Ekimae School, attended by many students and faculty members.
We would like to express our deepest gratitude to Dr. Yoneda for his great contribution to the development of the KCG Group as a lifelong educator, and we pray for his peaceful passing.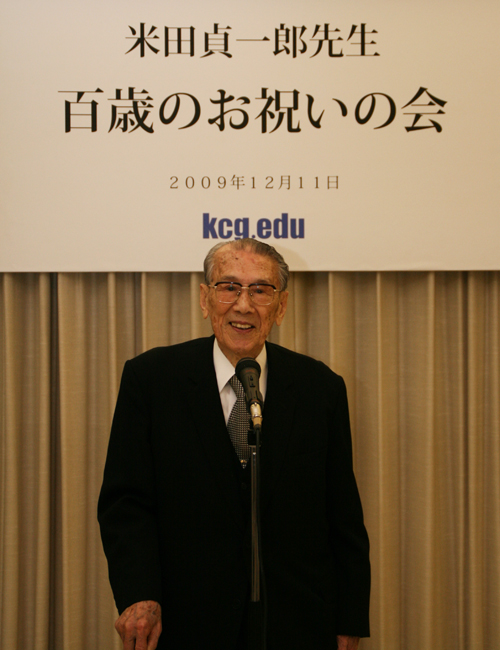 Dr. Teiichiro Yoneda addressing a "celebration party" for his 100th birthday on December 11, 2009, at the 6th floor lounge of KCG Kyoto Ekimae School.