Dr. Seiichiro Yoneda, who was an adviser to Kyoto Computer Gakuin and who was in charge of "special lectures" even after he was over 100 years old, passed away on June 7.I was 106 years old.I sincerely pray for the souls of the deceased and will be happy to announce them.The funeral was held by relatives.
Dr. Seiichiro Yoneda has been teaching since graduating from Kyoto Imperial University.He has taught at various schools in Kyoto City and has served as the head of the Kyoto City Horikawa High School, the Director of the Kyoto City Board of Education Secretariat, and the Professor at Kyoto Gakuen University.In April 1987, he joined Kyoto Computer Gakuin, where he served as the principal of Shohoku School and the principal of Kyoto Station.After that, he was appointed as an advisor, and was in charge of "special lectures" during the three major festivals of the three major festivals, the Gion Festival, and the period festivals. .
In 2001, Kyoto Computer Gakuin started writing "Akumu Koto" for "Accum", which is published once a year for alumni (graduates), students, and related parties.It was the most popular series in "Accum", which was posted in each issue with the content of following the history around the school building.
Prof. Yoneda put the brush after the 2009 edition of Accum 18 for the reason that he made a round trip around the school building.I have written and published 9 times so far.In celebration of the 100th anniversary of Professor Yoneda, "Haruka Koto" was published in a single volume.In addition to this, Dr. Yoneda's book that engraved the life itself of walking in the beloved area of Kyoto is still used in student textbooks.On December 11, 2009, when we were 100 years old, we held a "Celebration Party" at KCG Kyoto Station School, and many students and faculty members participated.
Dr. Yoneda would like to express my sincere appreciation for his great contribution to the development of the KCG Group as a lifelong educator, and pray for a peaceful eternal sleep.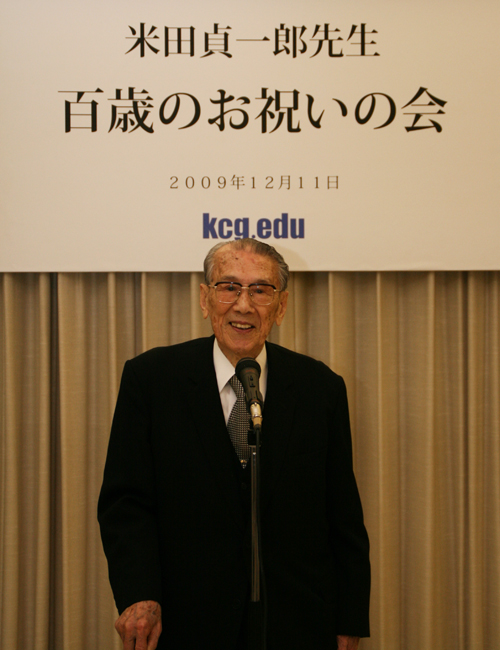 Mr. Seiichiro Yoneda, who was greeted at the 100-year-old "Celebration Party" = December 11, 2009, KCG Kyoto Station Front School 6F Lounge