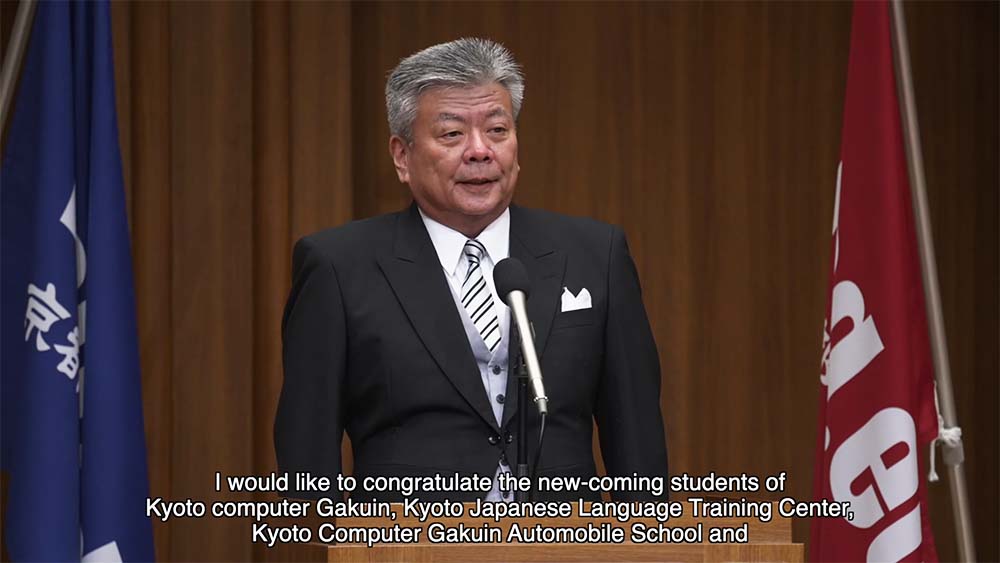 The KCG Group's 2022 entrance ceremony for Kyoto Computer Gakuin College (KCG), Kyoto Computer Guraduate Institute of Informatics (KCGI), Kyoto Japanese Language Training Center (KJLTC), and Kyoto College of Motor Vehicles (KCGM) was held on Saturday, April 9, in cyberspace.Due to the prevention of new coronavirus infection, the ceremony was not held in the main hall on campus, and KCG Group President Wataru Hasegawa and KCGI President Toshihide Ibaraki welcomed and encouraged the new students in their ceremonial addresses via online video streaming.As the digitalization of society continues to accelerate, young people with a strong desire to acquire specialized knowledge and advanced skills in IT and full of hope to realize their dreams for the future have started a new academic life as members of the KCG family, which has produced more than 50,000 graduates and alumni.Congratulations on your enrollment!
Since the spring of 2020, when the pandemic of novel coronavirus infection began, the KCG Group has been holding entrance ceremonies and degree conferment and graduation ceremonies in cyberspace.
After watching a video introducing the history of KCG and the group, which was established 59 years ago as the first computer education institution in Japan, President Hasegawa delivered his ceremonial address.The general director explained that the entrance ceremony was held in cyberspace to prevent the spread of the new coronavirus infection and to ensure the health and safety of the new students, their families, and other concerned parties.He added, "With the spread of the Internet, we can communicate with people all over the world, no matter where we are.I hope that by learning IT to the fullest, you will become students at the forefront of the times, with the ability to move freely between real space and cyberspace," he urged.He also introduced KCG's educational philosophy and the history and achievements of its efforts to be always aware of the cutting edge of the times and to take on new challenges, without being bound by the old preconceptions of the school.Make as many friends as you can while you are in school, friends that you will treasure for a lifetime.Please encourage your friends to study hard together.I hope that you will follow in the footsteps of our outstanding seniors and become confident graduates and alumni who will carve out a bright future for yourselves," he said.
In his address, President Ibaraki noted that the new semester's classes will be mainly in a hybrid format that combines face-to-face and online instruction, and asked, "I mentioned online briefly, but are you aware of the very advanced ICT behind this?He added, "I believe that you chose our university because you are interested in ICT.It is important to emphasize that our university targets not only the core of ICT but also a wide range of applied fields, and our goal is to nurture human resources who can play an active role in these fields.In any field, you will systematically learn the fundamentals of ICT, but in addition, you will acquire detailed knowledge of your chosen field, from the basics to the cutting edge.Advances in ICT continue unabated to this day.We have prepared a wealth of cutting-edge topics, so please look forward to them," he explained.I sincerely hope that you will have a meaningful student life and leave this university with confidence when you finish your studies," he said in his congratulatory address.
Then, on behalf of the new students, Mr. Ando (Kyoto Subaru High School), a new student in the KCG Game Department, said, "We have lived our lives as users of electronic devices and services, but I believe that our future is to become providers and to become creators of a rich and bright society.Under the guidance of my teachers and seniors at the university, I will strive to grow every day with the aim of cultivating "abundant creativity" as well as specialized skills and knowledge in order to realize my dreams and goals and contribute to society," he pledged.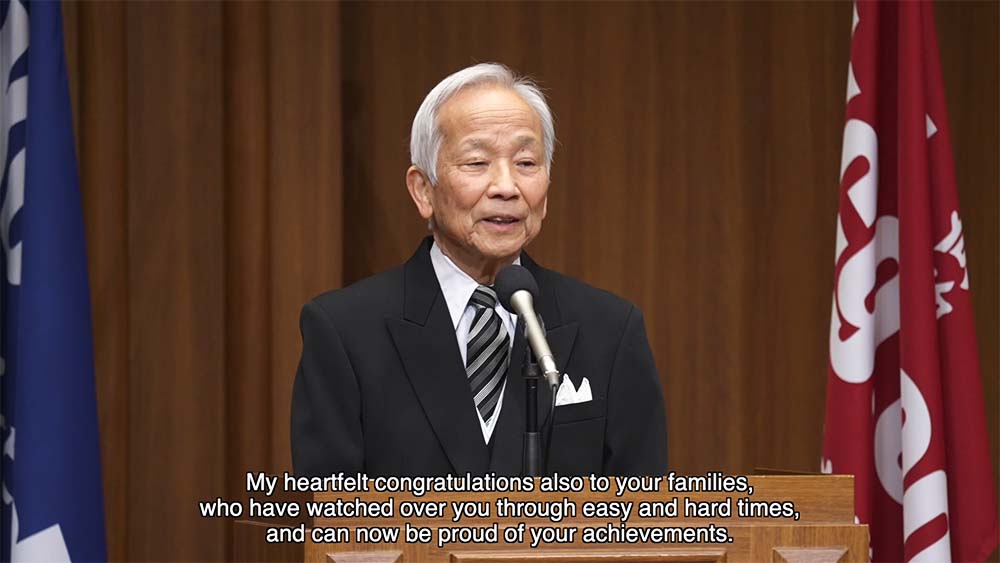 ◇ ◆ ◇ ◆ ◇
The KCG Group continues to make the utmost efforts to prevent the spread of the H1N1 coronavirus, such as by conducting classes and school events in cyberspace, with the utmost concern for protecting the lives and health of students and faculty members.
KCG Group's Response to Prevent New Coronavirus Infections | Kyoto University of Information Science and Technology
https://www.kcg.edu/news/2021/04-15