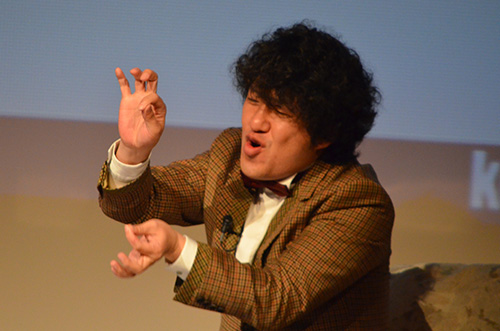 Yoshiyuki Hirai of "American Crayfish" talks about IT with humor.
The second talk live event on the theme of "I and IT" to commemorate the 50th anniversary of KCG Group, "IT is funny with Hirai Hirai, America Zarigani (Amezari)," featuring Yoshiyuki Hirai of the popular comedy duo America Zarigani (Amezari).The course was held at KCG Kyoto Ekimae School on May 12.
Participants, mainly high school students, listened to Mr. Hirai's humorous talk about the relationship between animation, games, and IT.
Mr. Hirai and his partner, Tetsuya Yanagihara, are big fans of video games, anime, and manga.He has reported for several gaming-related programs.This led to the appearance of the two Amezari in the "Monster Hunter" series as clients for in-game events, and the creation of a crimson shrimp-shaped armor called "Amezari armor," among many other episodes related to the game.He is also president of the Japan Game Users Association (JGUA), an organization established to promote the game industry from the user's perspective.
Hirai, who says he was introverted as a child, drawing comic books or playing video games, said, "It is strange that I am now speaking in front of people as a comedian.If we have a dream, we should accumulate examples of various information to realize it through arithmetic processing and leave them as results.If you do so, you will surely see results.Dreams always come true," he stressed.In addition to his comedy activities, he entertained visitors with FLASH animations, games, and smartphone applications that he has developed himself.
IT now occupies an important position in entertainment such as games, music, and animation, and Japan's technological prowess in these fields has taken the world by storm.In the "Me and IT" series, we hope to provide young people, who will lead the next generation, with an opportunity to learn about the future of IT and the importance of technology in their daily lives by having people who are active in various fields speak about their experiences.
The main contents of Mr. Hirai's talk live are as follows
The first encounter with Pokecon
I got involved with IT when I was in junior high school and started programming with a small calculator-like computer that my father probably got as a prize at a bingo tournament.I bought a technical magazine and tried various kinds of programming, such as games and household accounting, that were in the magazine.
Become absorbed in making coterie magazine
I was exactly that kind of person," he said.The coterie magazine carried game illustrations, information, game music scores, programs, etc., and was sent out to about 500 members nationwide.At that time, there was no good software to draw cartoons, so I made drafts on food wrapping film, pasted them on my computer monitor, and drew pictures by tracing them on the film.The LCD tablets and such that we have now are heaven."
Role is to enhance game events.
The reason for the establishment of the Japan Game Users Association, of which I am the president, was to hold events as a game user, to create a community, and to enliven it.When we hear of an event being held somewhere, we encourage people to participate via Facebook and Twitter, and we help out by going to the venue, setting up chairs, organizing staff, taking photos, and compiling a report.
Games, apps, FLASH animation...whatever you want to do, do it!
I was approached by a game production company called Level-5, and every morning I "went to work" in the development office to work on full-scale game development.In the app, a friend and I created the free "Yoshiyuki Hirai's Dagashi App: Tobe!Dentures" was a hit, ranking 25th in the Apple Store rankings.I was in charge of the painting.My family owned a candy shop, so I named it "candy application.It is curious, though, that the most downloads are from Jamaica.I am always willing to do what I want to do, including FLASH animation.
I would like to data-machine myself in the near future.
If we could quantify and visualize not only ourselves but also each person, it would be much easier to understand what kind of people we are, and we would be more efficient in our work and in our community.Also, we can think of human beings as computers, organizing various information like CPUs, accumulating results, and at the same time adding what is missing as source code.Then dreams can come true."
If you don't send out a message, you'll be left behind.
As we enter a smarter society, we may find ourselves in an age in which we cannot survive without individuals communicating a variety of things.We live in an era in which the information infrastructure is rapidly being developed, and fads and trends are changing at a dizzying pace.I knew nothing about IT, but I could do it if I had the strong desire to do it.I hope you will all take the first step.Moreover, you are welcome to learn any language other than Japanese, even programming languages.
Talk Live "Me and IT" Series No.2 "IT is Funny by Hirai the American Crayfish!Courses"
http://kcg.edu/50th/events/私とITアメリカザリガニ/