The KCGI Degree Conferral Ceremony and KCG Graduation Ceremony for the first semester of 2012 were held on Tuesday, September 18, 2012, at the main hall of Kyoto Station Satellite, Kyoto Institute of Information Science.The students who have studied together at KCG Group have left with a desire to "make the most of the knowledge they have learned and contribute to society.
Hidetoshi Ibaraki, president of KCGI, presented each graduate with a "Master of Information Technology (Professional)" degree, and the principals of the Rakuhoku and Kyoto Ekimae schools presented each KCG graduate with a diploma.Afterwards, certificates and commemorative gifts were presented to Mr. Lee Hui and Mr. Han Haru of KCGI, who won the Excellence Award, and to Mr. Keisuke Marunouchi, who won the Best Project Award.
In his address at the ceremony, KCGI/KCG President Wataru Hasegawa touched on various issues in the East Asia region, saying, "In times like these, the ability to actively communicate with others is necessary.I hope that you will cherish the experience of learning together with your peers of different nationalities at our university.I would be more than happy if the friendships we have developed at this university become the foundation for building peace," he said.
President Toshihide Ibaraki, referring to the achievements of Alan Turing, the founder of computers, whose 100th anniversary is this year, said, "It is your role to think about how to lead the ICT society in the future.I hope you will actively challenge your limitless possibilities," he said, expressing his high expectations for the future of the graduates.
Next, Mr. Wang Joyenqi, a graduate of KCGI's Graduate School of Applied Information Technology, representing graduates and alumni, said, "It was a great memory for me to learn and grow with various classmates here in Kyoto.I would like to continue to contribute to the future development of my alma mater after graduation," he said in his graduation address.At the end of the event, all attendees sang "Hotaru no Hikari" (Light of Fireflies).
Congratulations to all graduates and alumni.We sincerely wish you all the best in your future endeavors.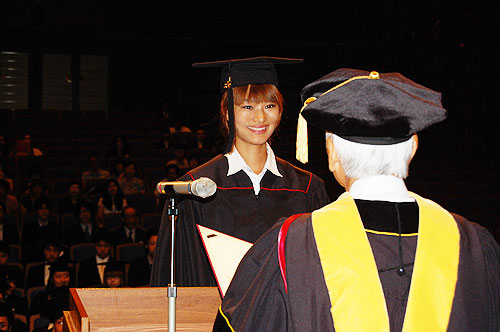 KCGI graduates receiving their certificates from President Ibaraki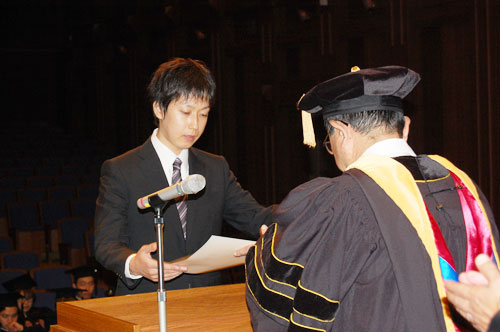 KCG graduates receive their diplomas from KCG Kyoto Ekimae Principal Yoichi Terashita.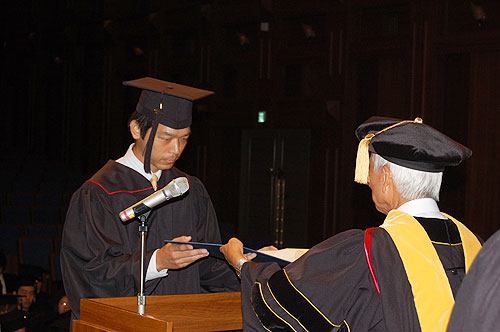 Keisuke Marunouchi receiving the Outstanding Project Award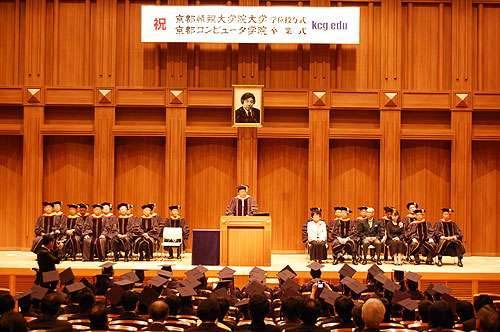 Supervisor Hasegawa stresses the importance of friendship that transcends national borders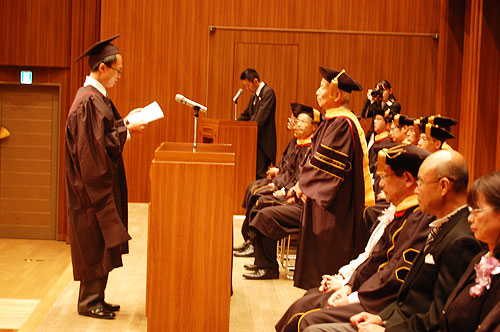 Mr. Wang Joyenqi (left) delivers his "Graduation Address.