The KCG Group will hold a concert on Friday, October 10, 2014, at 6:00 p.m. at the Kyoto Station Satellite Hall of the Kyoto Institute of Information Science to celebrate the release of the 50th anniversary CD album "MUΣA" and the launch of the geographical name top-level domain ".kyoto" (dot-kyoto), for which KCG serves as the registry operator.Nitza Melas, main vocalist of the entertainment group "Cirque du Soleil" and professor at the University, will perform a song she wrote for "MUΣA".Admission is free.Enjoy Ms. Nizza's melodies in this hall, which is rated as one of the best in western Japan for its acoustics and frequently hosts classical concerts!
In 2013, Kyoto Computer Graduate Institute (KCG) and The Kyoto College of Graduate Studies for Informatics (KCGI) celebrated their 50th and 10th anniversaries, respectively, and held a grand anniversary ceremony at Kyoto International Conference Hall on June 1.Ms. Nizza opened the ceremony and sang at the post-ceremony celebration.
The ".kyoto" domain name is expected to be launched this year, and the founders program, a priority registration program for ".kyoto", is currently being introduced to organizations and companies in Kyoto Prefecture, with the aim of further enhancing the ".kyoto" brand as a highly reliable domain name for people associated with Kyoto, emphasizing public interest and public nature.In cooperation with the Kyoto Prefectural Government and other organizations, we are striving to contribute to the revitalization of Kyoto Prefecture's industries and to the local community by making our products available to many companies, schools, and individuals in the prefecture, as well as public institutions.
Nitza Melas, who will sing "MUΣA" at this concert, is a vocalist as well as a dubbing artist for commercials and game characters.He is in charge of special classes for the IT Voice Actor Course, newly established in 2014 in the Information Processing Department of KCG's C-Studies (Computer Science).He teaches vocalization and other techniques while introducing the use of IT in his own activities.In addition to students in this course, students from other departments and KCGI are also taking the course to deepen their understanding of digital sound processing through songs and animation postrecording.
A singer-songwriter born in Montreal, Canada, who has fascinated audiences all over the world with his multilingual skills. She is one of the three main vocalists of "Cirque du Soleil" an entertainment group that performs circuses and musicals in various countries. Among them, she was the only one whose lyrics and music were chosen for the Cirque du Soleil show, and she can be said to be the de facto top singer in the group.She does not belong to any record company label, and performs songs and songwriting and also does graphic design, promotion, and sales. Since 2013 she has been a professor at Kyoto Computer Gakuin and The Kyoto College of Graduate Studies for Informatics.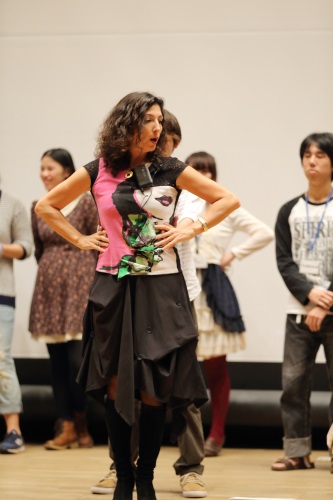 Nitza Melas, who teaches classes at KCG.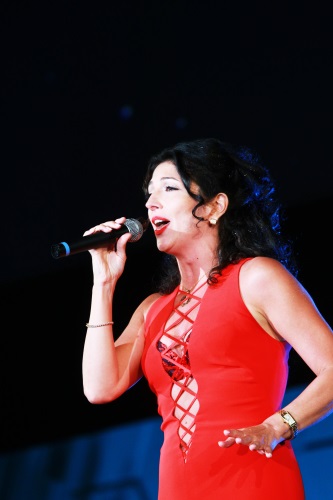 Nitza Melas
sang live at the opening of the KCG 50th and KCGI 10th anniversary celebrations and at the gala live performance = June 1, 2013